"Every juice, we make is made with the same care and love as I would make for my niece."

Shihab Seenath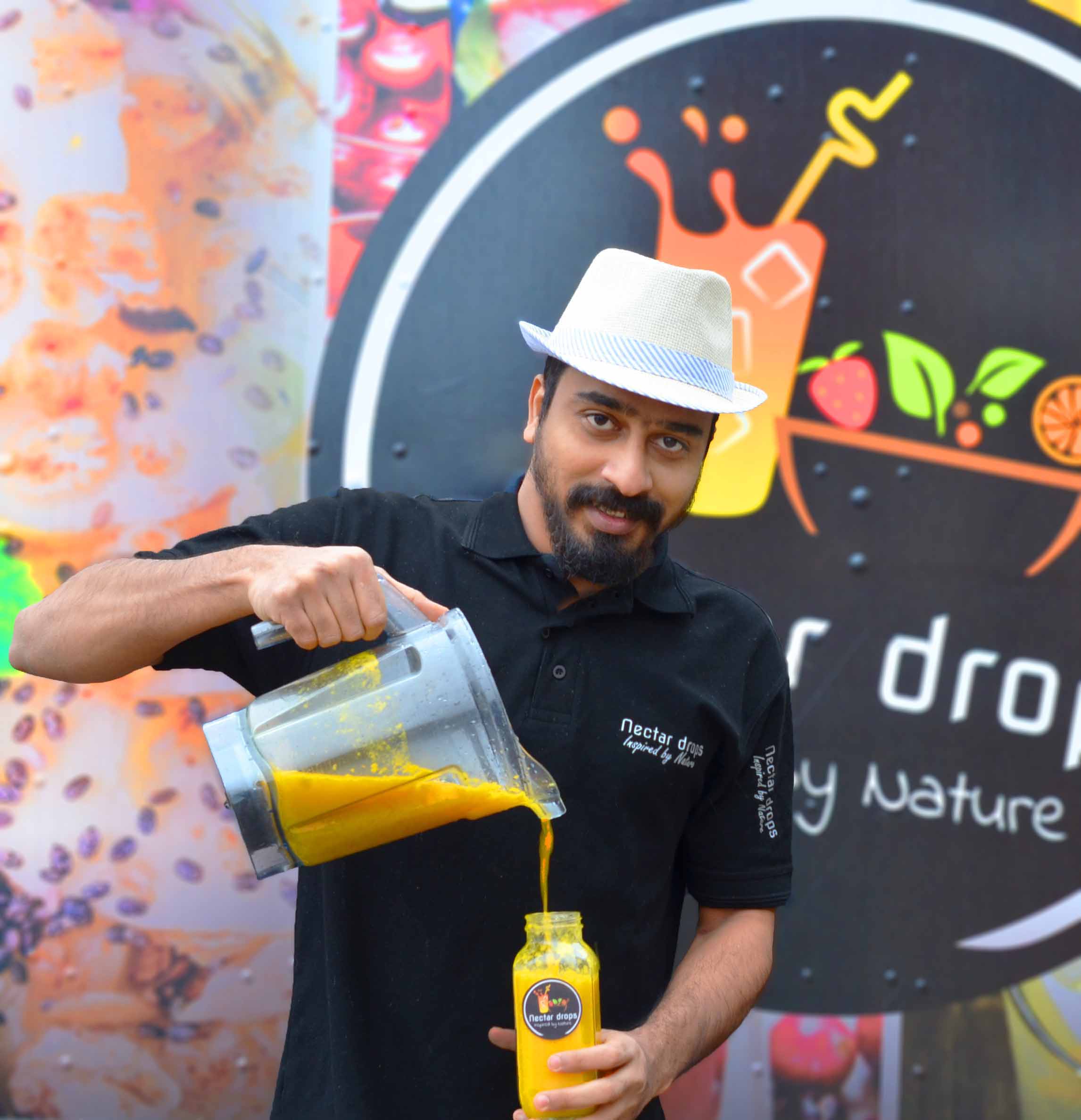 While visiting my sister in Singapore, I noticed the extra effort she would make to wake up hours early to prepare food for my three year old niece, especially for our outings. My sister is very particular about healthy nourishing food and this got me thinking about the ways one could make healthy food available to everyone. This was a thought that kept haunting me even after I returned from my visit. Soon the thought became an idea and the idea is what ended up starting Nectar Drops.
Every juice, we make is made with the same care and love as I would make for my niece. Our juices are just pure, simple and good food for anyone. The only secret ingredient we use is a personal approach and lots of love. Every juice is bottled with the idea that it will be my sister buying our juice for my niece from one of our stores. This mindset of creation and attention to detail has allowed us to find success in unconventional ways, and to pioneer our own path as we've grown into a full brand.
Shihab Seenath
Founder of Nectar Drops
While other beverage companies use petroleum-based plastic packaging, we bottle our juices in glass for purity and taste. Plastic, aluminum and stainless-steel bottles can alter the taste of the liquid it comes in contact with. Glass is nonporous and impermeable and will give you a clean, pure taste because it doesn't break down or leach chemicals into the product its holding. Since glass is not made from hormone-disrupting chemicals, like BPA or phthalates, these types of chemicals will not leach from the container into your food and drinks. Glass bottles help protect the purity of our juice.

We are perfectionists by nature and we hold ourselves to a standard that is higher than even our most demanding clients have challenged us to meet. Our chef in Bulgaria and our team of nutritionists in Kerala, also known as 'God's own country' for its blessed natural produces and herbs, work together to bring perfection to our recipes. We provide, what we believe to be, the most nutritionally sound and delicious solution for plant based food, cold pressed juices and super-food smoothies ever, anywhere, period.

We aim to use as much as we can from our local sources in Canada, but if that's not possible then we reach out across the world to sustainable suppliers! Our produce, coming in from our trusted suppliers, is given a good wash (because soil is not a super food no matter what people may tell you) before it's chopped and juiced. The juice is then blended to our own recipes and bottled.

MADE EVERYDAY NEVER PROCESSED
Ever picked up an orange from your backyard and squeezed into pure juice? No processing, no heat or pasteurization?For our team at Nectar Drops that's the chase in pursuit of an authentic juice experience. We pursue that experience every day, and that's why our team source the freshest ingredients, juice them and provide healthy options for every step of the journey. Our juices are made every day in small batches. Our juices are raw, fresh, handcrafted and non-pasteurized. We want to deliver our juices to our customers without missing the freshness.

Production is the most important aspect of NECTAR DROPS – from the careful sourcing of ingredients right through to the delivery of our juice, fresh to our customers. We know produce. So, we select only the best veggies and fruits that are simply, easily, unquestionably good for you. Its good sense bottled. We take the extra steps to be sure that when we say you are drinking the best juice and eating the healthiest food on the planet, we are telling you the truth.

I Really Really Love It !
Nectar Drops makes creative smoothies using ingredients that are often hard to come by in juice bars. All smoothies are strictly made with fresh fruits & veggies, raw handmade nut milks and handmade juices so expect real taste and not the processed sugary sweetened smoothie from a coffee chain that you might be used to. The staff are polite, knowledgeable and friendly. If you don't like a certain ingredient or would like something added on they will always help you in your quest to create the perfect smoothie for your taste!
Strawberry Mojito is my favorite !

I love Nectar Drops. This little hidden gem does great fresh juices and super food smoothies.The team are very friendly and always around to give great suggestions, oh and if I haven't mentioned the mock-tails, they are delicious. There is a great variation of flavour combinations to suit ones particular preferences - creamy, fruity, green, spicy and citrusy. Strawberry mojito is one of my favorite, with the perfect blend of fresh strawberries, lime and mint leaves. Staff was very helpful in explaining all of their juices and process!

Staff went above and beyond explaining everything on their menu. They were patient with my indecisiveness (because everything looked amazing!). Their quality is amazing, and they usually have new things to try. They are friendly, knowledgeable, and professional. No one can beat the taste and creative combinations of Nectar Drops ! My faves are Golden Sunshine , Charcoal Splash, Strawberry Mojito, and Coconut Goji.
If you are interested in wholesale, stocking our juices or even want us to supply you
for a birthday party, baby shower, office party, post-wedding breakfast, or other thirsty gathering.
email us : partner@nectardrops.com